Wednesday Mar. 21st 2012
SCR-9: Nex-Gen March 30th Pueblo, CO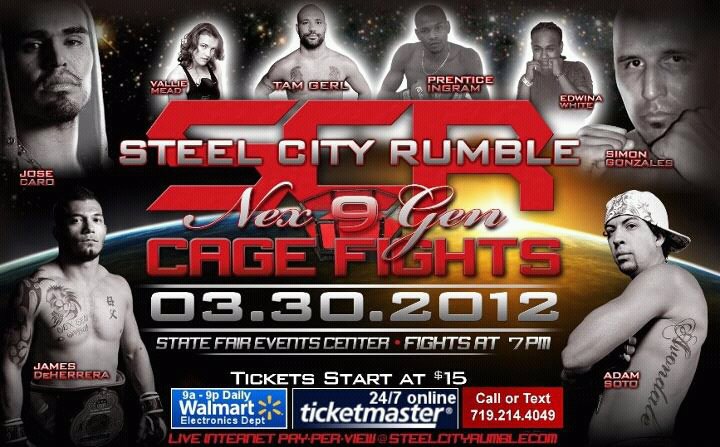 STEEL ONLY ONE!
Where others Fumble the REAL Rumble Shines on. Colorado Fight League Publicity dept.

Pueblo CO, February 10th 2012-Following on the heels of last years breakout success with it's all amateur "Contender Series," Steel City Rumble continues to set the bar for quality fight sports promotion in Colorado. "We are proud to announce that SCR will host it's now 9th event titled "Nex-Gen" and return to the Colorado State Fair Events Center March 30th 2012." stated Armando Chavez from his home on Sunday. "Nex-Gen" will bid a final farewell to the amateur ranks for a lot of local standouts as they begin their ascent into the professional ranks and according to Chavez, "We are so proud to have been part of their early careers and will continue to feature them here as our pros."

When pressed for information on the upcoming card CFL General Manager Gabe Charboneau beamed: "We are excited to announce that the card will feature a slew of top notch amateur talent along with pro names like 2 x Rage in the Cage champ and elite grappler Ray Pride Robinson, crowd favorite Tamboura Gerl and in the main event local professional Prentice "The Menace" Ingram.

Ingram is currently on a 2 fight win streak since his only loss which was due to cut." Prentice, armed with natural talent, excellent standup and improved ground is here to fight and furthermore wants people to know to stay.
And fight is exactly what he'll have to do to beat Paul Ray. The Native New Mexican hails from Keith Jardines Mean 1 MMA in Rio Rancho and will be the first test that Ingram has had as a pro that matches him as much in physique as ability. The former standout grappler and coach states that he is equally as ready to stand as to put Ingram on his back. " Charboneau who works closely with Mean 1 for matchmaking across the United States adds. "When putting this main event together I knew it had to be these two." They bring a fast pace, they're both carved from stone, exceptionally skilled and off the mat are two of the most amicable personalities, true ambassadors of our great sport."

Undercard? WHAT UNDERCARD!

Rounding out the evening is one of the most stacked amateur cards in recent memory as Southern Colorado's top amateurs take their final step before turning pro. The card includes:
Top prospects Jose "El Fuego" Caro, Dominick Montoya, James Deherrera and "The Avondale Son" Adam Soto return in what may be their last appearance as amateurs.

Both Caro and Montoya are coming off big wins, Caro on the Jacksons MMA Series and Montoya over Jon Sparks from Keith Jardine's gym respectively. Also slated is longtime Pueblo coach Simon "El Nino" Gonzales as he seeks victory one last time taking on grappler Shirad Mizell and Pueblo Firefighter/tough-man Joey Gutierrez making his transition from 16 oz. to 4 oz. gloves in his debut against Nick Grado of Rough House.

Putting the finishing touches on what should be a great evening of fights are Alex Quintana and current 45 lb. "Mayhem" champ Arnulfo Ortega both hailing from Pueblo's Rough House contingent.
Final fight card forthcoming later this week stay tuned! Tickets available at any Walmart electronics department, State Fair Box office or at the new Steelcityrumble.com for more information contact publicity at (719) 369-1138