Tuesday Mar. 6th 2012
NM MMA fighter Angela Magana in car accident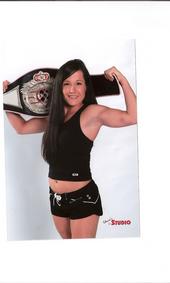 Farmington New Mexico Mixed Martial Artist Angela Magana was in a car accident over the weekend in California. She was in California for a bout with Carla Esparza for the 115lbs MEZ Sports Title. Below is more info on the accident courtesy of PennyJoMMA.net.
For the second time female mma fighter Angela Magana has been in a car wreck and broken her back. Pray for her please.
The accident happened the morning of her fight: Carla Esparza vs Angela Magana, where one was to crowned the first 115-pound women's title holder at MEZ Sports: "Pandemonium 6″ in California on March 3.
Update… Angela says at the moment the medication is helping to relieve  the pain.  She is able to walk with a brace on but is being asked to stay in bed until she sees the neurosurgeon tomorrow.
"It's a re-injury, but they are worried about the spinal cord this time."
Source: http://pennyjomma.net